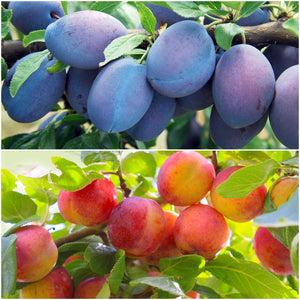 Double Plum Twist Tree with 2 Different Plum Varieties Growing On 1 Tree!
Online Orchards
Regular price $49.95 $44.95 Sale
A Double Plum Twist Tree is the perfect combination of art, creativity, and horticulture. Using grafting techniques that go back centuries, 2 distinct plum varieties are now growing on just 1 tree. Each tree will have a potential cultivar combination of Italian, Santa Rosa, Green Gage, Mt. Royal, Blue Damson, Beauty, and Brooks. A large benefit of this tree is that the unique varieties pollinate each other. Instead of reserving space for 2 trees to cross-pollinate, this Double Plum Twist takes up much less precious room in your landscape. The different varieties of plums also add a unique ornamental appeal as they all ripen to different colors on the tree.

Different cultivars of plums create a unique ornamental appeal as they all ripen to different colors

When before at least 2 trees were required for fruit, this tree takes up much less precious room in a landscape

Different plum varieties cross pollinate on the same tree

Enjoy a variety of plums all season long as they ripen at different times, now when 1 crop is done, another plum with a completely different flavor will be ready to enjoy